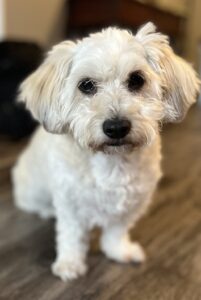 This is our Rylee. She was diagnosed with IVDD (Intervertebral Disc Disease) in June 2023. This is very common in small breeds, especially with longer backs and shorter legs. Rylee is Havanese. She is young still and full of life. We were told she must have jumped wrong one day. We were told she would eventually be paralyzed if we didn't do anything for her, that we could offer medications to help with inflammation and pain, or another option was surgery after getting an MRI. All of that would have to be done in the cities. Surgery alone would be $6,000-$8000. The last option was to put Rylee down. She will be 7 soon, acts like a pup still, is VERY MUCH LOVED AND SPOILED! There was no way we could put her down, or afford the surgeries.
Miraculously we heard about Animal Kingdom Chiropractic and Dr. Claudia from a friend of ours. We had nothing to lose by getting a referral from our Veterinarian and making an appointment! WE ARE INCREDIBLY THANKFUL! Dr. Claudia has given Rylee back her ability to stand, sit, stay steady on her feet and walk-all in her first appointment! I was very skeptical prior to the first appointment and I will never question it again!
We had to kennel her per our Vet for 6-8 weeks and after 2 weeks in and we were all so miserable for Rylee! She was miserable too. We had to carry her everywhere, up and down stairs and to her food. I slept on the floor next to her kennel for 2 weeks, then my husband did for a week. We were done with kenneling! We scheduled with Claudia and I am very pleased to say our pup is back!! She has no issues with walking, standing, running, playing and more importantly she can use the steps again. She regained function with activity and Chiropractic care allowing those nerves and joints to work again!
Claudia is all very professional, easy to talk with and discuss your wants, your pets needs and make a care plan that fits both! Had it not been for Claudia, we may have had to put our pup down because seeing her in pain was painful and disheartening. I could never thank Claudia enough for the care she has given and being so supportive! Dogs aren't the only fur friends she cares for! Give Animal Kingdom Chiropractic a call, or email them for your fur friends needs. You won't regret it. Claudia's professionalism in practicing is in the best interest of the animal! 
Melissa